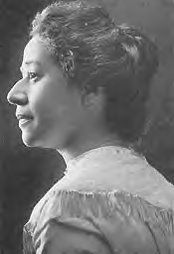 Anna Julia Haywood Cooper (August 10, 1858 – February 27, 1964) was an American author, educator, sociologist, speaker, Black Liberation activist, and one of the most prominent African-American scholars in United States history. Upon receiving her PhD in history from the University of Paris-Sorbonne in 1924, Cooper became the fourth African-American woman to earn a doctoral degree. She was also a prominent member of Washington, D.C.'s African-American community and a member of Alpha Kappa Alpha sorority.
Cooper was an author, educator, and public speaker. In 1893, she delivered a paper entitled "The Intellectual Progress of the Colored Women of the United States since the Emancipation Proclamation" at the World's Congress of Representative Women in Chicago.
Cooper was one of five African American women invited to speak at this event, along with: Fannie Barrier Williams, Sarah Jane Woodson Early, Hallie Quinn Brown, and Fanny Jackson Coppin.
She was also present at the first Pan-African Conference in London in 1900 and delivered a paper entitled "The Negro Problem in America."
A nation's greatness is not dependent upon the things it make and uses. Things without thots [ sic] are mere vulgarities. America can boast her expanse of territory , her gilded domes, her paving stones of silver dollars; but the question of deepest moment in this nation today is its men and its women , the elevation at which it receives its "vision into the firmament of eternal truth.
—?Anna J. Cooper, The Ethics of the Negro Question, September 5, 1902
In 1914, at the age of 56, Cooper began courses for her doctoral degree at Columbia University, but was forced to interrupt her studies in 1915 when she adopted her late half-brother's five children upon their mother's death.
Later on she transferred her credits to the University of Paris-Sorbonne, which did not accept her Columbia thesis, an edition of Le Pèlerinage de Charlemagne. Over a decade she researched and composed her dissertation, completing her coursework in 1924. Cooper defended her thesis The Attitude of France on the Question of Slavery Between 1789 and 1848 in 1925. At 65, she became the fourth black woman in American history to earn a Doctorate of Philosophy degree.
Although the alumni magazine of her undergraduate alma mater, Oberlin College, praised her in 1924, saying, "The class of '84 is honored in the achievement of this scholarly and colored alumna," when she tried to present her edition of Le Pèlerinage de Charlemagne to the college the next year, it was rejected.
Cooper's other writings include her autobiographical booklet The Third Step, about earning her doctorate from the Sorbonne, and a memoir about the Grimké family, entitled "The Early Years in Washington: Reminiscences of Life with the Grimkés," which appeared in Personal Recollections of the Grimké Family and the Life and Writings of Charlotte Forten Grimké (privately published in 1951).
On February 27, 1964, Cooper died in Washington, D.C., at the age of 105. Her memorial was held in a chapel on the campus of Saint Augustine's College, in Raleigh, NC where her academic career began. She was buried alongside her husband at the City Cemetery in Raleigh.