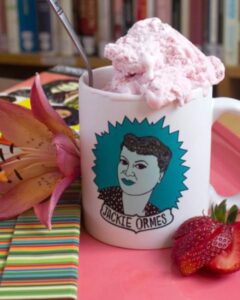 Jackie Ormes (August 1, 1911 – December 26, 1985) is known as the first African American woman cartoonist and created the Torchy Brown comic strip and the Patty-Jo 'n' Ginger panel.Jackie Ormes was born Zelda Mavin Jackson[ on August 1, 1911, in Pittsburgh, Pennsylvania to parents William Winfield Jackson and Mary Brown Jackson. Her father William, the owner of a printing company and movie theater proprietor, was killed in an automobile accident in 1917.
This resulted in the then six-year old Jackie and her younger sister Dolores in the care of their aunt and uncle for a brief period of time. Eventually, Jackie's mother remarried and the family relocated to the nearby suburb of Monongahela. Ormes described the suburb in a 1985 interview for the Chicago Reader as "spread out and simple. Nothing momentous ever happens here". It would be in Monongahela that she would attend high school until graduating in 1930.
Ormes drew and wrote throughout high school. It was during this period that she wrote a letter to the editor of the Pittsburgh Courier, a weekly African-American newspaper that was published on Saturdays. The then-editor, Robert Van, wrote back.
This correspondence led to her first writing assignment- covering a boxing match. Her coverage of future matches led her becoming an avid fan of the sport.
Ormes started in journalism as a proofreader for the Pittsburgh Courier. She also worked as an editor and as a freelance writer, writing on police beats, court cases and human interests topics. While she enjoyed "a great career running around town, looking into everything the law would allow, and writing about it", what we really wanted to do was draw.
Ormes's first comic strip, Torchy Brown in Dixie to Harlem, first appeared in the Pittsburgh Courier in 1937. In addition to the Courier, Torchy Brown was syndicated to fourteen other black newspapers.
The strip,starring Torchy Brown, was a humorous depiction of a Mississippi teen who found fame and fortune singing and dancing in the Cotton Club. Torchy's journey from Mississippi to New York City mirrored the journey of many African-Americans who ventured northward during the Great Migration.
It was through Torchy Brown that Ormes became the first African-American woman to produce a syndicated comic strip. The strip would run until 1940. The reason for the strip's abrupt end is uncertain, but it is presumed to be due to an end in her contract.
Ormes moved to Chicago in 1942, and soon began writing occasional articles and, briefly, a social column for The Chicago Defender, one of the nation's leading black newspapers, a weekly at that time. For a few months at the end of the war, her single panel cartoon, Candy, about an attractive and wisecracking housemaid, appeared in the Defender.
By August 1945, Ormes's work was back in the Courier, with the advent of Patty-Jo 'n' Ginger, a single-panel cartoon which ran for 11 years. It featured a big sister-little sister set-up, with the precocious, insightful and socially/politically-aware child as the only speaker and the beautiful adult woman as a sometime pin-up figure and fashion mannequin.
In 1950, the Courier began an eight-page color comics insert, where Ormes re-invented her Torchy character in a new comic strip, Torchy in Heartbeats.
This Torchy was a beautiful, independent woman who finds adventure while seeking true love. Ormes expressed her talent for fashion design as well as her vision of a beautiful black female body in the accompanying Torchy Togs paper doll cut outs. The strip is probably best known for its last episode in 1954, when Torchy and her doctor boyfriend confront racism and environmental pollution.Ormes used Torchy in Heartbeats as a sounding board for several big issues of the time.
In a 1985 interview for Chicago Reader she claimed she was " anti-war-I was anti-everything-that's-smelly". Torchy presented an image of a black woman who, in contrast to the contemporary stereotypical media portrayals, was confident, intelligent, and brave.