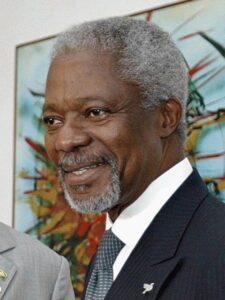 Kofi Atta Annan, former Secretary General of the United Nations, was born in Kumasi, Gold Coast (now Ghana). In 1958, Annan received a Ford Foundation grant to study at Macalester College in the United States where he earned his bachelor's degree in economics in 1961.
He then earned his Master of Advanced Studies degree in international relations from the Graduate Institute of International and Development Studies in 1962. In 1972, Annan earned his Master of Science degree in management from the Massachusetts Institute of Technology.
Annan began working for the United Nations in 1962 as a budget officer for the World Health Organization. From 1987 to 1996, he served as assistant secretary general of Human Resources, Management and Security Coordinator; Program Planning, Budget and Finance, and Controller; and Peacekeeping Operations.
In December, 1996, Annan was confirmed as Secretary General of the United Nations, a position he held until December, 2006. Annan and the United Nations were co-recipients of the 2001 Nobel Peace Prize for the founding of the Global AIDS and Health Fund to support developing countries in their struggle to care for their people.
Since leaving the United Nations, Annan has been involved with several organizations with both global and African focuses. He has received many honors and awards, including the Companion of the Order of the Star of Ghana in 2000, the Profiles in Courage Award from the JFK Memorial Museum in 2002, and the Olof Palme Prize in 2006.