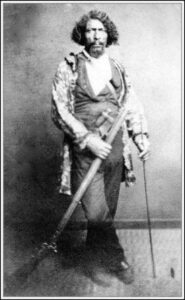 James Pierson Beckwourth, mountain man, fur trader, and explorer, was born enslaved in Frederick County, Virginia. Beckwourth's owner emancipated him in 1824 and Beckwourth joined a fur trapping company on an expedition to explore the Rocky Mountains. In 1826, Beckwourth was captured by the Crow Indians and for the next 8 or 9 years lived with them, rising in their society from warrior to chief.
During the Mexican-American War, Beckwourth served as a courier for the United States Army. In 1850, he was credited with discovering what came to be called Beckwourth Pass, a passage through the Sierra Nevada Mountains. In the mid-1850s, Beckwourth began ranching in the Sierra and his ranch, trading post and hotel were the starting settlement of what became Beckwourth, California. Beckwourth died October 29, 1866.
In 1996, in recognition of his contribution to the city's development, the city of Marysville, California officially renamed the city's largest park Beckwourth Riverfront Park.
His autobiography, "The Life and Adventures of James P. Beckwourth: Mountaineer, Scout and Pioneer, and Chief of the Crow Nation of Indians," was published in 1856.