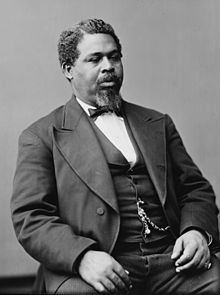 April 5, 1839 Robert Smalls, businessman and politician, was born enslaved in Beaufort, South Carolina. In 1862, while serving as a helmsman on a Confederate military transport, he and other black crewman took over the ship and handed it over to the Union Navy. This action made Smalls famous in the North and Congress passed a bill rewarding Smalls and his crewman prize money for the captured ship.
Following the Civil War, Smalls returned to Beaufort and purchased the estate of his former master. Smalls served as a member of the South Carolina House of Representatives from 1865 to 1870, the South Carolina Senate from 1871 to 1874, and the United States House of Representatives from 1875 to 1879 and 1882 to 1883. Smalls also served as United States Collector of Customs from 1889 to 1911. Smalls died February 23, 1915.
The Robert Smalls House in Beaufort is a National Historic Landmark and Robert Smalls Middle School in Beaufort is named in his honor. In 2004, the United States Army named a Logistics Support Vessel for him, the first army ship named for an African American. Biographies of Small include "From Slavery to Public Service: Robert Smalls, 1839 – 1915" (1971) and "Gullah Statesman: Robert Smalls from Slavery to Congress, 1839 – 1915" (1995).