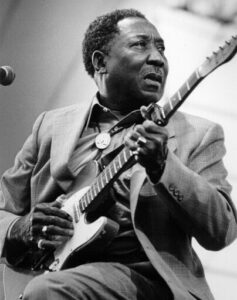 Muddy Waters, blues musician and "the Father of Chicago Blues," was born McKinley Morganfield in Issaquena County, Mississippi. Waters started out playing the harmonica, but by age 17 was playing the guitar at parties. In 1943, Waters moved to Chicago and drove a truck and worked in a factory by day and performed at night.
Waters had his first big hits in 1948 with "I Can't Be Satisfied" and "I Feel Like Going Home." Other hits followed, including "Rollin' Stone" (1950), "Hoochie Coochie Man" (1954), "Mannish Boy" (1955), and "Got My Mojo Working" (1956), all of which have been listed by the Rock and Roll Hall of Fame as amongst the 500 Songs That Shaped Rock and Roll.
Waters won Grammy Awards for Best Ethnic or Traditional Folk in 1971, 1972, 1975, 1977, 1978, and 1979. He was inducted into the Blues Foundation Hall of Fame in 1980. Waters died April 30, 1983 and was posthumously inducted into the Rock and Roll Hall of Fame in 1987 and received a Grammy Lifetime Achievement Award in 1992.
In 1994, the United States Postal Service issued a commemorative postage stamp in his honor. His biography, "Can't Be Satisfied: The Life and Times of Muddy Waters," was published in 2002.