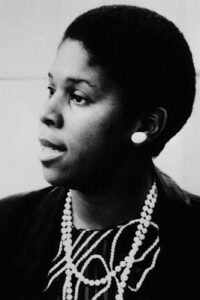 Lenora Branch Fulani (born April 25, 1950) is an American psychologist, psychotherapist, and political activist. She may be best known for her presidential campaigns and development of youth programs serving minority communities in the New York City area.
In the United States presidential election, 1988 heading the New Alliance Party ticket, she became the first woman and the first African American to achieve ballot access in all fifty states. She received more votes for President in a U.S. general election than any other woman in history until Jill Stein of the Green Party of the United States in 2012. Fulani's political concerns include racial equality, gay rights and for the past decade, political reform, specifically to encourage third parties.
In 1993, Fulani joined activists who supported Ross Perot for President in the United States presidential election, 1992, in a national effort to create a new pro-reform party. In 1994 she led formation of the Committee for a Unified Independent Party (CUIP). For years Fulani was active with Newman's version of the International Workers Party (IWP). More recently she has been active with the Independence Party of New York, which was founded in Rochester in 1991.
Fulani was born Lenora Branch in 1950 in Chester, Pennsylvania, the youngest daughter of Pearl, a registered nurse, and Charles Branch, a railway baggage handler. Her father died of pneumonia when she was 12. As a teenager in Chester in the 1960s, Fulani was active in her local Baptist church, where she played piano for the choir.
In 1967, Fulani was awarded a scholarship to study at Hofstra University in New York.
She graduated in 1971, and went on to earn a master's degree from Columbia University's Teachers College In the late 1970s, she earned a PhD in developmental psychology from the City University of New York (CUNY). Fulani was a guest researcher at Rockefeller University from 1973–1977, with a focus on how learning and social environment interact for African-American youth.
While in college, she became involved in black nationalist politics, along with her then-husband Richard. Both had adopted the name of the West African people Fulani as a surname when they married in a traditional West African ceremony. During her studies at City University, Fulani became interested in the work of Fred Newman and Lois Holzman, who had recently formed the New York Institute for Social Therapy and Research. Fulani studied at the Institute in the early 1980s.
She helped recruit the NAP's 1984 presidential candidate Dennis L. Serrette, an African-American trade union activist. Although he was quite involved with the party for years, Serrette left and published critical accounts of what he described as its cultic operation.
Fulani ran for President in 1988 as the candidate of the New Alliance Party. She received almost a quarter of a million votes or 0.2% of the vote. She was the first African-American independent and the first female presidential candidate on the ballot in all 50 states. In the 1990 New York Gubernatorial election Fulani ran as a New Alliance candidate. She was endorsed that year by Nation of Islam leader Louis Farrakhan. Fulani received 31,089 votes for 0.77% of the total vote.
During the 2000 election, Fulani surprisingly endorsed Pat Buchanan, then running on the Reform Party ticket. She even served briefly as co-chair of the campaign. Fulani withdrew her endorsement, saying that Buchanan was trying to further his right-wing agenda. Fulani and Newman then endorsed the Presidential candidacy of Natural Law Party leader John Hagelin, a close associate of Maharishi Mahesh Yogi. Later, Fulani unsuccessfully sought the Vice Presidential nomination at the national convention organized by a faction of the Reform Party.
In the 2001 election for Mayor of New York City, Fulani endorsed the Republican candidate Michael Bloomberg and organized city members of the IP to work for his campaign. Bloomberg, once elected, approved an $8.7 million municipal bond to provide financing for Fulani and Newman to build a new headquarters for their youth program, theater and telemarketing center.
In the municipal election of 2003, Fulani was among those who endorsed Bloomberg's proposed amendment to the New York City Charter to establish non-partisan elections. Although Bloomberg spent $7 million of his own money to promote the amendment, voters rejected it.
Fulani formed a coalition to organize Independence Party support for the re-election campaign of Mayor Bloomberg. The local press described the coalition as composed of "union officials, clergy, sanitation workers, police officers, firefighters, district leaders and others who work at the grassroots level."
Spirited defenses of Fulani have appeared in the city's black press; writing in the Amsterdam News, columnist Richard Carter wrote "there is little doubt that the main reason for the negative press, which, by the way, is not unusual for this brilliant, outspoken political strategist, is because she is a strong, no-nonsense Black woman. So strong she makes the city's political establishment and lockstep white news media nervous."