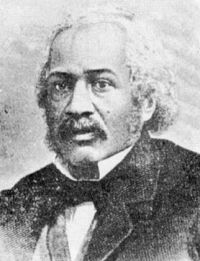 James McCune Smith, physician, abolitionist and author, was born in New York City. After graduating from the African Free School, Smith tried to attend several American colleges, but was denied admission because of his race.
Therefore, he attended the University of Glasgow in Scotland where he graduated at the top of his class with his Bachelor of Arts degree in 1835, his Master of Arts degree in 1836, and a medical degree in 1837. In 1837, he returned to New York as the United States' first professionally trained African American physician.
In 1846, he was appointed the only doctor for the Free Negro Orphan Asylum where he worked for more than 20 years. He also opened what is believed the first black pharmacy in the U.S. Smith was a member of the American Anti-Slavery Society and in 1850 was one of the organizers of the Committee of Thirteen which was formed to resist the Fugitive Slave Law.
During the mid-1850s, he worked with Frederick Douglass to establish the National Council of Colored People. Smith was a prolific writer whose works include "The Destiny of the People of Color" (1843) and "Ira Aldridge" (1860). He also wrote the introduction to Douglass' second autobiography, "My Bondage and My Freedom" (1855), in which he stated "the worst of our institutions, in its worst aspect, cannot keep down energy, truthfulness, and earnest struggle for the right."
In 1863, Smith was appointed professor of anthropology at Wilberforce College, but was too ill to take the position. He died November 17, 1865. James McCune Smith School in New York City is named in his honor.