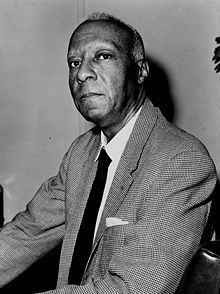 Asa Philip Randolph, civil rights leader and founder of the Brotherhood of Sleeping Car Porters, was born in Crescent City, Florida. In 1911, Randolph moved to New York City to become an actor but gave up on that ambition when he failed to win his parents approval.
In 1917, he founded and co-edited the Messenger, a monthly magazine that campaigned against lynching and opposed United States participation in World War I. In 1925, Randolph organized the Brotherhood of Sleeping Car Porters and after years of struggle, in 1937 signed a contract with the Pullman Company which earned $2 million in pay increases for employees, a shorter work week, and overtime pay.
In the early 1940s, Randolph and others proposed a march on Washington to protest racial discrimination in war industries and segregation in the armed forces. The march was cancelled when President Franklin Roosevelt issued the Fair Employment Act. In 1950, Randolph was a co-founder of the Leadership Conference on Civil Rights which has become the premiere civil rights coalition.
Randolph was also significantly involved in the organization of the 1963 March on Washington for Jobs and Freedom. Randolph was awarded the NAACP Spingarn Medal in 1942 and in 1964 President Lyndon Johnson presented him with the Presidential Medal of Freedom, the nation's highest civilian honor.
Randolph died May 16, 1979 and there are a number of schools named in his honor, including the A. Phillip Randolph Career and Technical Center in Detroit, Michigan.
In 1989, the United States Postal Service issued a commemorative postage stamp in his honor and in 2002 his efforts were chronicled in the television movie "10,000 Black Men Named George." Biographies of Randolph include "A. Phillip Randolph: A Biographical Portrait" (1973) and "A. Phillip Randolph: Pioneer of the Civil Rights Movement" (1990).