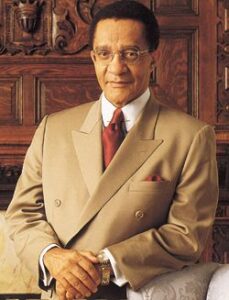 April 11, 1933 William Anthony "Tony" Brown, journalist, talk show host, and author, was born in Charleston, West Virginia. Brown served in the United States Army from 1953 to 1955. He earned his Bachelor of Arts degree in psychology and sociology in 1959 and his Master of Social Work degree in 1961 from Wayne State University.
In 1968, he joined Detroit's public television station, WTVS, and soon became producer of the station's first show specifically for African Americans, "CPT" or "Colored Peoples Time." In 1970, he was appointed executive producer and host of "Black Journal" which he continues to host as "Tony Brown's Journal." In 1985, Brown founded the Council for the Economic Development of Black Americans which encouraged blacks to patronize black-owned businesses that were committed to their community. In 1988, he wrote, directed, produced and distributed the film "The White Girl" which dealt with cocaine abuse.
From 2004 to 2009, Brown served as the dean of Hampton University's Scripps Howard School of Journalism and Communications. Brown has written a number of books, including "Black Lies, White Lies: The Truth According to Tony Brown" (1995) and "What Mama Taught Me: The Seven Core Values of Life" (2003). USA Today has identified him as one of the top five U.S. experts on the status of African Americans.